Near Nijjer Agro Foods Pvt Ltd, Meharbanpura, Gt Road, Jandiala Guru, Amritsar-143115

9814652318, 9803006610, 9855974678, 9501177731

virk_boiler@yahoo.com, virkboiler@gmail.com
Related to :
Industries : Industrial Boilers Dealers & Manufacturers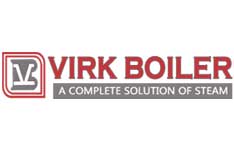 About us
Virk Boiler

Get Details Via SMS
Leader in Manufacturing Process Steam and Power Generation Equipment Virk Boilers, popularly known as VB is a trusted name in the field of Indian Boiler Industry. It is known for its commitment, competence and compliance. VB was established in the year 1995 to provide complete solution to steam generation needs. The Company is engaged in manufacturing of Steam Boilers, Pollution Control Equipments and Fluidized Bed etc. energy saving Devices.

Itís visionary Mr. Suba Singh Virk, VB Managing Director, along with his Brothers, now VB Directors started this Company. Presently, The Company is manufacturing all types of Boilers to meet the requirement of Process and Power Industries.

VB has got its own manufacturing facilities at Meharbanpur, 12 km from Amritsar, near Nijjer Agro Ltd. (Amritsar). In last 17 years of operation, the Company has established its name in Boiler Industry in India. Company has already drawn an ambitious long term plans to meet growing demands of energy in India.
Photo Gallery
Map Location
Video Footage
Video
Services
Services

Industries : Industrial Boilers Dealers & Manufacturers