Verka Majitha Bye Pass, Amritsar-143001

9781272222, 9814120121, 9914620121, 9914720121

Related to :
Resorts : Wedding Resorts & Caterers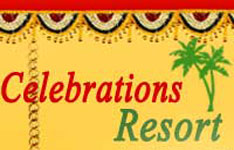 About us
Celebrations Resorts

Get Details Via SMS
The majestic building of Celebration Resort located in holy city of Amritsar. This royal resort touches the town and yet provides privacy and maintains peace and serenity away from the hassles of the town. The reception of the hotel hosts a warm royal welcome along with hospitality assistance on your arrival. There is a huge parking area properly guarded by security staff. It is specially designed for convenience as well as safety of the vehicles of the visitors. The staff here at the resorts is efficient and caters well to provide you a comfortable stay. Mulch-colored lights at night highlight the magnificence of the resorts. Resort fully covered with lush green park/lawn.
The lush green well maintained lawn with eye-catching landscaping and perfectly textured grass-which looks like designer carpet, gives a panoramic view. Enjoy your parties and other important functions at Celebration Resort.
Photo Gallery
Map Location
Video Footage
Video
Services
Services

Resorts : Wedding Resorts & Caterers